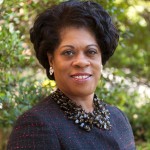 With UMBC since 2002, Valerie Thomas is responsible for all human resource functions of the University. Her areas of responsibility include recruitment and staffing, benefits, classification and compensation, organization development and training, employee relations, payroll, information management, and staff recognition.
Since coming to UMBC, Valerie oversaw the implementation of automating the HR systems, enhancing the HR website moving a heavily paper driven processes to having tools and resources within a click of the mouse, and negotiating several union contracts.
Valerie has over twenty years experience in higher education human resource management and over ten years working at a sister institution within the University of Maryland System in the Office of the Provost.
Valerie holds a bachelor's degree in business administration North Carolina Central University and a master's degree in administration and supervision from Coppin State College.