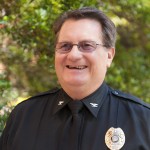 Mark W. Sparks was appointed as the Chief of Police for the UMBC Police Department and Director of Parking Services on August 2, 2010. He is an experienced professional in the law enforcement field with over 33 years of service at UMBC and College Park Campus of the University of Maryland. During his 30 year tenure at the College Park campus, he rose through the ranks until his retirement as the Interim Chief of Police in June of 2010, and joined the UMBC community as the Chief of Police and Director of Parking services shortly thereafter.
His primary focus, since joining the UMBC leadership staff, has been facilitating improvements in institutional response to critical incidents, and in implementing organizational changes necessary to attain international accreditation for the UMBC Police Department. Sparks is a member of the University System of Maryland, Chiefs of Police Council, and currently serves as the committee chairperson.
Sparks received his Bachelor of Science degree from the University of Delaware in Criminal Justice, and a Masters of General Administration from University of Maryland, University College.